Project title: Agregate Farming in the Cloud (AFarCloud)
H2020 topic: H2020-ECSEL-2017-2-RIA, ECSEL Joint Undertaking (JU)
Grant Agreement No: 783221
Duration: 09/2018 – 08/2021
Total budget: 28.1 million €
Consortium: 60 partners / 13 countries
Website: http://www.afarcloud.eu/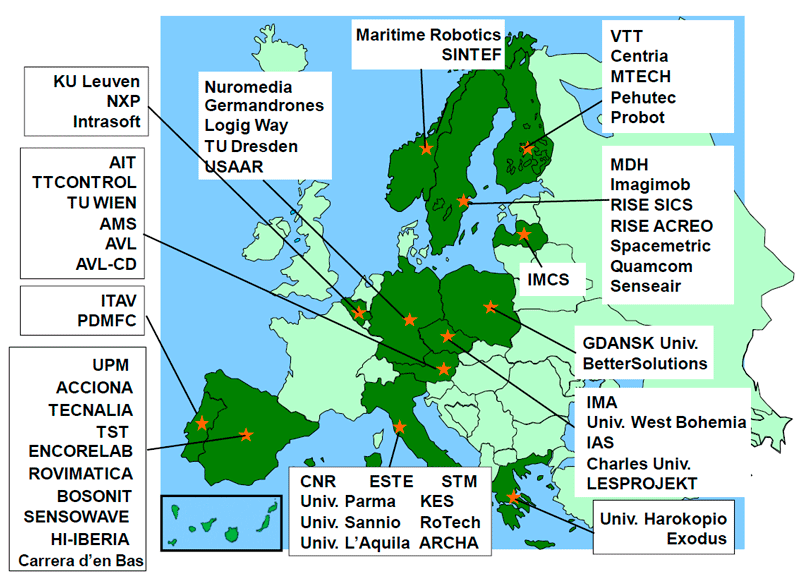 Farming is facing many economic challenges in terms of productivity and cost-effectiveness, as well as an increasing labour shortage partly due to depopulation of rural areas. Reliable detection, accurate identification and proper quantification of pathogens and other factors affecting both plant and animal health, are critical to be kept under control in order to reduce economic expenditures, trade disruptions and even human health risks.
AFarCloud provides a distributed platform for autonomous farming that allows the integration and cooperation of agriculture cyber physical systems in real-time in order to increase efficiency, productivity, animal health, food quality and reduce farm labour costs. This platform is integrated with farm management software and will support monitoring and decision- making solutions based on big data and real time data mining techniques.
The achievements from AFarCloud will be demonstrated in 3 holistic demonstrators (Finland, Spain and Italy), including cropping and livestock management scenarios and 8 local demonstrators (Latvia, Sweden, Spain and Czech Republic) in order to test specific functionalities and validate project results in relevant environments located in different European regions.
» UWB contributes via three departments including the Department of Cybernetics, Department of Informatics and the Department of Geomatics. Geomatics@UWB is responsible for sensor data management and geospatial technologies for crop and cattle management«